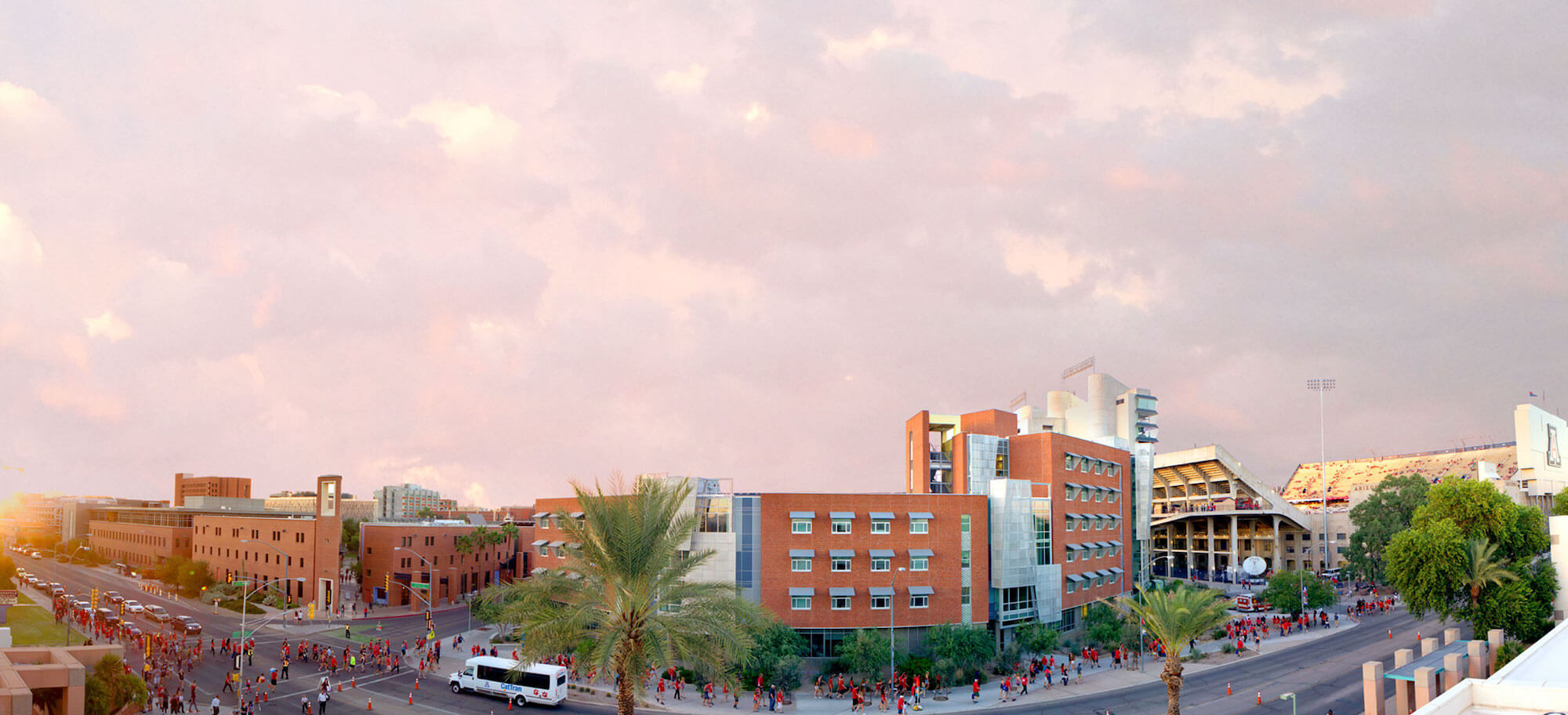 HOUSING
Your dorm isn't just your home away from home – it's the place where you'll make instant connections to people, resources and opportunities.
SEE ALL OF OUR DORMS
ROOMMATE DIARIES
Jordanne & Shawna
Likins Hall
Highland DISTRICT
FIND YOUR FUTURE BFF
Our roommate-matching tool connects you with potential roommates based on interests, class schedule and more.

DORM SPOTLIGHT

ÁRBOL DE LA VIDA
In addition to its modern architecture, this dorm is known for its many sustainable design features.
Park Student Union:
3-minute walk
Food and gaming center
University Boulevard:
5-minute walk
Popular shops and restaurants
Centennial Hall:
7-minute walk
Broadway in Tucson
Arizona State Museum:
7-minute walk
Renowned archaeology museum

MANZANITA-MOHAVE
At "Manzi-Mo," you'll be right in the heart of campus life.
Tucson Streetcar:
1-minute walk
Rides around Tucson's core
Arizona Fine Arts District:
1-minute walk
Theater, art and music
Old Main:
4-minute walk
Campus' most iconic building
THINK TANK:
7-minute walk
Tutoring services

NAVAJO-PINAL
Built into the football stadium, students love having a front row seat every game day.
Arizona Stadium:
1-minute walk
Football Stadium
Rec Center:
1-minute walk
Exercise facility with a pool
Main Library:
2-minute walk
Study spaces and Starbucks
Campus Health:
6-minute walk
Top-ranked medical care

THE HONORS VILLAGE
Our newest community is designed to help Honors Wildcats live, work and play at their very best.
Dining Hall:
On site
Community kitchen also available
Honors Classrooms:
On site
Innovative learning spaces
North District Rec Center:
1-minute walk
All-new recreation facility
Faculty/Staff Offices:
On site
Instant access to support
There's more
to explore
Our 23 dorms come in all shapes, sizes and locations, also known as districts. This map will help you get to know them all and everything nearby.
Campus Map Legend
Park District
Highland District
Historic District
North District